Become a CAPtain


with your
The foul language eliminator


Removes profanity from
movies and TV shows
Switch to LifeLine


for Christian
long distance service
The Family Friendly


Internet Service
A Christ Centered


Community Web Site
Comments?

Christian Media News
A Singles
Christian Network
PLEASE VOTE!


for this site!
Christian Banner eXchange
---



ALERT: To fully understand this report you should first visit the topics suggested by the CAP Table of Contents.

For FREE text-only analysis reports as they are calculated, send an email with SUBSCRIBE CAP-MAR in the message body.



NOTE: We make no scoring allowances for Hollywood's trumped-up "messages" to excuse, or its manufacturing of justification for aberrant behavior or imagery. This is NOT a movie review service. It is a movie analysis service to parents and grandparents to tell them the truth about movies using the Truth. If you do not want the plot, ending, or "secrets" of a movie spoiled for you, skip the Summary/Commentary. In any case, be sure to visit the Findings/Scoring section -- it is purely objectuve and is the heart of the CAP Entertainment Media Analysis Model applied to this movie.




If Scriptural references appear in the Summary / Commentary, the full text appears at the end of the Summary / Commentary likely using a mix of KJV and NIV.



---


SUMMARY / COMMENTARY:

Where the Heart Is (PG-13) -- by the magnitude of the ignominy envelope, should have been R.

Though there was little of the typical programming to warrant a rating of R, the sheer magnitude of the total of lesser issues of ignominy earned a CAP Final Score mathematically equivalent to R-rated movies of 1995 and earlier. There was intercourse in this movie for 13-year olds (and younger) with the participants nearly covered. Though little skin showing, it was intercourse. And the most foul of the foul words was presented but only once. God's name in vain appeared 23 times without the four letter expletive and once with it. Leading the use of God's name in vain by a nose was the three/four letter word vocabulary at 26 examples.

Good-hearted Tennessee orphan Novalee Nation (Natalie Portman), an unwed pregnant 17 year old girl who has never lived in anything without wheels under it, is dropped off by her redneck boyfriend, Willy Jack Pickens (Dylan Bruno) at an Oklahoma Wal-Mart to buy a pair of house slippers to replace the shoes she lost in the hole in the floorboard of the $80 car her boyfriend just bought to "escape" the confines of rural life. With her bare feet slapping the asphalt parking lot as she waddles to the store, Novalee embodies the image of helplessness and vulnerability -- a definite projection of the stereotypical and crude expression "barefoot and pregnant." If that chauvinist expression "barefoot and pregnant" conjures in you disrespect, extend it to Pickens -- he earned it. He is not there when she exits the store. Musician wannabe Pickens is very good at using the puppy-dog whimper to get his way. And when he gets it, his slippery humility quickly dissolves to expose aggressive confidence and arrogance that threaten violence. After dumping Novalee, Pickens meets up with Ruth Meyers (Joan Cusack), a Nashville promotion agent who hands Pickens a roll of quarters to keep in his pocket to improve his manly image as a new star, Billy Shadow. And to confuse it all, if the vocal sound track was performed by Bruno he is fairly good as a singer. Maybe that demonstrates how evil can be beautiful [2Cor. 11:14].

Novalee is now abandoned to live in Wal-Mart. And that she does -- for six weeks I think it was from 9:00 p.m. to 9:00 a.m daily. Well, why not? Everything is there. All the comforts of home, except none of it was hers. Fronting an air of good morals, Novalee keeps a record of everything she consumes as a listing of "What I owe Wal-Mart." I say "air of good morals" questioning whether they are really that good? Everyone makes poor behavior choices from time to time (I'll say it again -- everyone) but to disregard the morality of some behavior choices while honoring morality in other choices is at least eyebrow-raising if not questionable. Is that to say anyone may legislate on-the-spot what is right or wrong, depending on the situation? I think not. God has clearly defined what is and is not right. And He did so completely without situational ethics or conditional morality. Who are we to argue?

Novalee's secret life as a Wal-Mart homemaker is discovered as a beautiful baby girl is born next to aisle 5 and a local oddman jumps through a plate glass window to render aid. In the facility caring for Novalee, she meets single Lexie Coop (Ashley Judd) in an unbefitting one-note performance as a "push-over" baby-maker with four kids, no two of them having the same father, and with a submissive addiction to men and sex. One of the would-be fathers attacked two of her children and beat her. I wonder if the signal in that was intentional of the writers or whether it was just sensationalism as usual. I think it was not an intentional signal since there wasn't the slightest mention of consequences to the slug who beat her and molested her children. Whether intentional, is that a message to which our young adolescents should be exposed by a movie? Shouldn't it be mom or dad that decides when and how their adolescents learn of such?

Sitting outside the hospital, bankrupt and homeless Novalee meets her "mentor." Enters Sister Husband (Stockard Channing - Grease ("You got a lot to offer a girl.") and Isn't She Great ("If a man bought me those (pearl necklace), I would have sex with him. And I would enjoy it.). Sister, as an evangelist of sorts, slides in as the Welcome Wagon lady who enjoys her kitchen table with her live-in "housemate." Together, they enjoy that table often. She even asks forgiveness of God in a somewhat mechanical, even bragging way [Ps. 119:29] for their enjoyment of the table, or rather, on the table. I suppose some will see this as Sister being "human." But some, maybe many, will magnify the improprieties of a few 'religious' notables with it. If you ever wonder from where evangelists get a bad name....... Sister is portrayed as a giving lady who has a couple skeletons in her closet. Sister extends her possessions to Novalee by, among several unselfish actions, giving her shelter, food, and baby sitting service.

But all is not lost. Novalee meets one really good guy -- a rather weird and preoccupied librarian Fornay Hall (James Frain). Fornay is jittery and jumpy, jumping every time a pathetic and weak female voice echoes down the library stairs, nervously excusing himself to attend. A fast and somewhat one-sided romance develops between Fornay and Novalee. Though Novalee explains she doesn't want any new relationship with a man, Fornay doesn't give up. And thankfully so. He is the only man of compatible age in her life who is gentle and kind, giving until it hurts. But when Novalee finally gives herself to him, the beauty of the relationship becomes tarnished by yet more immoral sex [Mark 7:21-23].

And amidst all the immoral behavior is a stew of loving support from those she meets. Some support is even generous. Sister Husband gives her lodging. Lexie gives her kindness and camaraderie. The Wal-Mart manager forgives her debts and gives her $500. But also comes ugliness in the form of a self-serving thieving mother, Mama Lil (Sally Field). Field provides a brief appearance as the mother who abandoned Novalee 10 years earlier, who shows up because of the short-lived notoriety of her daughter as the mother of the Wal-Mart baby among the tabloid readers and daytime TV watchers. Promising to find lodging and maternal necessities for her daughter, Mama Lil snatches Novalee's $500 gratuity ... and is not seen again.

Note that this is a rather lengthy and detailed description of Where the Heart Is but I am experimenting for as long as I can with different styles. Please feel free to let me know if this style is more appealing to you. Though there are many good features to this movie, it promoted sex outside of marriage as an acceptable and efficient tool to get what you want. There are almost countless admonitions in the Bible against immoral sex -- all point to ANY sex outside of a monogamous heterosexual marriage as being sinful. But not in Where the Heart Is. And such a presentation will undoubtedly challenge the ethics and moral judgments of many young women. If you watch this movie, please keep in mind and heart the sly and dangerous tactic of disguising immorality by embedding it under a theme of unselfish giving and kindness [1 John 2:15-17; 2 Cor. 11:3]. While there may seem to be several moments in Where the Heart Is. which may tend to remind some of Scriptural admonitions, counterfeiting of the Scriptures to suit contemporary morality is rampant [2 Tim. 3:16].



ooooooooooooooooooooooooooooooooo



2 Cor. 11:14 And no wonder, for Satan himself masquerades as an angel of light.
Mark 7:21-23 For from within, out of men's hearts, come evil thoughts, sexual immorality, theft, murder, adultery, greed, malice, deceit, lewdness, envy, slander, arrogance and folly. All these evils come from inside and make a man unclean.
Ps. 119:29 Keep me from deceitful ways; be gracious to me through your law.
1 John 2:15-17 Love not the world, neither the things that are in the world. If any man love the world, the love of the Father is not in him. For all that is in the world, the lust of the flesh, and the lust of the eyes, and the pride of life, is not of the Father, but is of the world. And the world passeth away, and the lust thereof: but he that doeth the will of God abideth for ever.
2 Cor. 11:3 But I am afraid that just as Eve was deceived by the serpent's cunning, your minds may somehow be led astray from your sincere and pure devotion to Christ.
2 Tim. 3:16 All scripture is given by inspiration of God, and is profitable for doctrine, for reproof, for correction, for instruction in righteousness:


ooooooooooooooooooooooooooooooooo




Please see the Findings/Scoring section below for a full accounting of this movie: for the best representation of the CAP Entertainment Media Analysis Model applied to this movie.



---
FINDINGS / SCORING: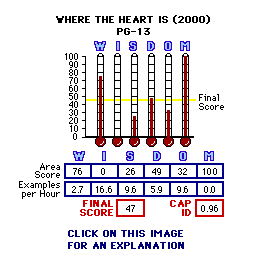 NOTE: Multiple occurrences of each item described below may be likely.

Wanton Violence/Crime (W):

resisting arrest
tornado terror
beaten woman
child molestation with somewhat detailed
description

Impudence/Hate (I)(1):

one use of the most foul of the foul words
26 uses of the three/four letter word vocabulary
abandonment of unborn child and mother
extremely shallow and deceitful mother
"the only thing worth living for is the good."
lies

Sex/Homosexuality (S):

unwed pregnancy
sexual innuendo, comments, and talk - some vulgar
vulgar grab of male privates
admissions of sexual immorality
cohabitation - long term
dressing to maximize the female form/skin exposure
sexual prosthesis
suggestive eye movements
inappropriate touch
intercourse with covered nudity
talk of immoral sex as a casual tool

Drugs/Alcohol (D):

booze
drunkenness
death from alcoholism

Offense to God (O)(2):

definite presence of mocking God and His Love and Wisdom
"A baby born out of wedlock is an abomination to the Lord."
23 uses of God's name in vain without the four letter expletive

Murder/Suicide (M)(3):