Become a CAPtain


with your
SPECIAL OFFER


From the runaway best-seller.
The foul language eliminator


Removes profanity from
movies and TV shows
Switch to LifeLine


for Christian
long distance service
The Family Friendly


Internet Service
A Christ Centered


Community Web Site
Comments?

Christian Media News
A Singles
Christian Network
Your One Stop


For Everything Christian
Free Email Ministry


Subscribe Today!!
PLEASE VOTE!


for this site!
Christian Banner eXchange
---
ALERT: To fully understand this report you should first visit the topics suggested by the CAP Table of Contents.

For FREE text-only versions of our media analysis reports as they are calculated, open this email then click "send." If your browser does not handle this URL format properly, send us a request to add you.
NOTE: We make no scoring allowances for Hollywood's trumped-up "messages" to excuse, or its manufacturing of justification for aberrant behavior or imagery. This is NOT a movie review service. It is a movie analysis service to parents and grandparents to tell them the truth about movies using the Truth. If you do not want the plot, ending, or "secrets" of a movie spoiled for you, skip the Summary/Commentary. In any case, be sure to visit the Findings/Scoring section -- it is purely objective and is the heart of the CAP Entertainment Media Analysis Model applied to this movie
On July 26, 2000 the American Medical Association, the American Psychological Association, the American Academy of Pediatrics, and the American Academy of Child & Adolescent Psychiatry released a joint statement regarding the dangers of violence in entertainment. I applaud these associations for fortifying 1 Cor. 15:33. An exceptionally important statement in the release that deserves your earnest attention is "There are some in the entertainment industry who maintain that 1) violent programming is harmless because no studies exist that prove a connection between violent entertainment and aggressive behavior in children, and 2) young people know that television, movies, and video games are simply fantasy. Unfortunately, they are wrong on both accounts." [Emphasis is mine] Another statement in the report is "Viewing violence may lead to real life violence." From our five-year study, I contend that other aberrant behaviors, attitudes, and expressions can be inserted in place of "violence" in that statement. Our Director - Child Psychology Support, a licensed psychologist and certified school psychologist concurs. For example, "Viewing arrogance against fair authority may lead to your kids defying you in real life." Or "Viewing sex may lead to sex in real life." Likewise and especially with impudence, hate and foul language. I further contend that any positive behavior can be inserted in place of "violence" with the same chance or likelihood of being a behavior template for the observer; of being incorporated into the behavior mechanics and/or coping skills of the observer. In choosing your entertainment, please consider carefully the joint statement and our findings.
If Scriptural references appear, the full text appears at the end of the Summary / Commentary likely using a mix of KJV and NIV.
---


SUMMARY / COMMENTARY:

*THE EXORCIST* Re-mastered (R) -- the same show plus a couple new bells and whistles.

*The Exorcist* came out in 1973, 28 years ago, and was rated R for gruesome imagery and vulgar language. Indeed, the re-mastered Exorcist contained the same. Except for the impact of a couple new flashframes of demonic faces and a statue, an added upside-down crab-crawl of a possessed girl down some stairs, and some added connective dialogue, I suspect the 1973 version would earn the same CAP score of 51 this re-mastered version earned. Definitely an R movie but not the hardcore R of today. *HOWEVER*, this movie is incredibly focused on demonic and evil imagery plus some very, *very* vulgar language from a 12 year old girl (dubbed) and, to a lesser extent, her mother. But much of the contemporary R material is just not there. It was equivalent to today's PG movies in Wanton Violence/Crime and was equivalent to contemporary G-rated movies in Sex/Homosexuality. But as I said, it is *incredibly* focused on and graphic in demonic and Satanic matters. The Offense to God score was well below zero and was the Impudence/Hate score. Therein is more evidence of the utility of the CAP analysis model.

Discovering an ominous-looking artifact in northern Iraq, Father Merrin (Max Von Sydow) expresses dire dread about something in his face-off with a demonic statue, ostensibly of Satan. When returning to the "office" Father Merrin fiddles with the artifact and the office clock stops.

Somehow, the events in northern Iraq are connected with and lead the viewer to Georgetown where a film is being made of the university experiencing some student unrest. The star actress, Chris MacNeil (Ellen Burstyn) quells the unrest in a "show stopping" scene of control and leadership. However, the real leadership is needed back at home where daughter Regan (Linda Blair) is beginning to experience some odd behaviors and presences. As mom was walking home one day, she eavesdrops on a conversation between a Catholic priest, Father Damien Karras (Jason Miller) and a parishioner about exorcism. As matters worsen for Chris and Regan and after many medical and psychological procedures and treatments fail to resolve Regan's dilemma, Chris seeks out Father Karras to perform an exorcism on Regan. And there is where the brunt of the vulgarities start.

Note that early on in the show, Chris states that neither she nor Regan are "religious." By that I suspect we can assume she was stating they were not Christian. I bring this up to make a significant point which also is a kudo for the accuracy (probably serendipitous) of the writers. Once we are saved and are covered by the Blood of Jesus, we are protected from Satan. But if we do not accept His Lordship and Sacrifice, we are fair game for evil influences. While I believe possession by evil influence is a real threat to the unsaved as much as I believe angelic possession is a blessing to all, I DO NOT believe any evil possession can cause the graphic mutilations and distortions of flesh nor the manipulations of inanimate objects as portrayed in this movie. There is nothing in the Bible I can find about evil forces being able to cause such physical manifestations.

It was somewhat consoling that the writers portrayed much reliance on the power of Christ to control and defeat evil. That is a fact. But there was too much tendency to give evil too much autonomy against and invulnerability to the power of our Lord. For example, as Satan's presence in 12-year old Regan manifested as graphic and gruesome contortions and demonic changes, "Satan" would just yell louder and more vulgar at the priests as they commanded him to leave in Jesus' name. If Jesus can cast out the demons from the wild man [Luke 8:26-33] and out of the daughter [Matt. 15:21-28] and out of the boy and out of many others with a simple command like "Go", He can certainly handle Satan like a toy. And in many accountings of His casting out of demons and devils, Jesus repeatedly showed us the power of having faith in Him, for it in many instances of exorcism by Jesus He told us that is was by faith in Him that the devils were cast out. Just as He said "BY your faith you are healed" to the woman with the long-term discharge.



ooooooooooooooooooooooooooooooooo



1 Cor. 15:33 (KJV) Be not deceived: evil communications corrupt good manners. (NIV) Do not be misled: Bad company corrupts good character.
Luke 8:26-33 And they arrived at the country of the Gadarenes, which is over against Galilee. And when he went forth to land, there met him out of the city a certain man, which had devils long time, and ware no clothes, neither abode in any house, but in the tombs. When he saw Jesus, he cried out, and fell down before him, and with a loud voice said, What have I to do with thee, Jesus, thou Son of God most high? I beseech thee, torment me not. (For he had commanded the unclean spirit to come out of the man. For oftentimes it had caught him: and he was kept bound with chains and in fetters; and he brake the bands, and was driven of the devil into the wilderness.) And Jesus asked him, saying, What is thy name? And he said, Legion: because many devils were entered into him. And they besought him that he would not command them to go out into the deep. And there was there an herd of many swine feeding on the mountain: and they besought him that he would suffer them to enter into them. And he suffered them. Then went the devils out of the man, and entered into the swine: and the herd ran violently down a steep place into the lake, and were choked.
Matt. 15:21-28 Then Jesus went thence, and departed into the coasts of Tyre and Sidon. And, behold, a woman of Canaan came out of the same coasts, and cried unto him, saying, Have mercy on me, O Lord, thou son of David; my daughter is grievously vexed with a devil. But he answered her not a word. And his disciples came and besought him, saying, Send her away; for she crieth after us. But he answered and said, I am not sent but unto the lost sheep of the house of Israel. Then came she and worshipped him, saying, Lord, help me. But he answered and said, It is not meet to take the children's bread, and cast it to dogs. And she said, Truth, Lord: yet the dogs eat of the crumbs which fall from their masters' table. Then Jesus answered and said unto her, O woman, great is thy faith: be it unto thee even as thou wilt. And her daughter was made whole from that very hour.



ooooooooooooooooooooooooooooooooo



As always, it is best to refer to the Findings/Scoring section -- the heart of the CAP analysis model -- for the most complete assessment possible of this movie.



---
FINDINGS / SCORING: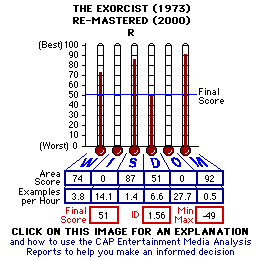 NOTE: Multiple occurrences of each item described below may be likely, definitely when plural.

Wanton Violence/Crime (W):

control with firearms
assault
gambling
invasive medical procedures
hysteria
self stabbing in vagina with a metal crucifix
deaths, one unseen and by 180 degree rotation of the head

Impudence/Hate (I)(1):

six uses of the most foul of the foul words, most by a young girl
14 uses of the three/four letter word vocabulary
campus unrest
child fit
aggressive child behavior
asylum imagery
several sequences of extremely vulgar language and behavior by a child

Sex/Homosexuality (S):

young girl in a bath tub
inappropriate touch
camera angle to force viewer on private parts
sexual talk

Drugs/Alcohol (D):

smoking
bar/booze
drinking
drunkenness

Offense to God (O)(2):

evil-looking artifact with a clock stopping
evil-looking statue
Halloween celebration
playing with a Ouija board
candle faring
vulgar prosthetics on a statue of Mary
demon face flash frames
ghosting of evil statue on bedroom wall
several long sequences of extremely graphic and vulgar demonic possessions with hateful expressions to our Lord
many sounds/voices of evil
"Thank God my will is weak" to excuse alcoholic beverage
levitations by evil forces
"Take me" by priest to Satan

Murder/Suicide (M)(3):