Become a CAPtain


with your
The foul language eliminator


Removes profanity from
movies and TV shows
A Christian Family


Internet Network Cooperative
Switch to LifeLine


for Christian
long distance service
The Family Friendly


Internet Service
A Christ Centered


Community Web Site
Comments?

Christian Media News
A Singles
Christian Network
PLEASE VOTE!


for this site!
Christian Banner eXchange
---

ALERT: To fully understand this report you should first visit the topics
suggested by the CAP Table of Contents.



SUMMARY / COMMENTARY:

*The Cider House Rules* (PG-13) -- the male version of *Titanic* (1997)

Yes, the male version. There is indeed male genitalia presented in this movie the MPAA says is okay for your 13-year old sons and daughters. And there is intercourse and other nudity with and by the *Mighty Joe Young* girl (I don't care what her name is). And these brazen insults before our children started with *Titanic*. The entertainment industry is s-o-o-o predictable. When do you suppose this stuff will hit PG? G? In ten years? Five years? Tomorrow? Full rear male nudity is already in "family-friendly" cartoons and commercials for them (*The Simpsons*, *King of the Hill*, others), why not in movies that kids see, sometimes with their parents [Luke 17:2]? Why not? Everyone else is and the MPAA says PG-13 is okay for kids. When will it stop, folks? When are WE going to stop it?

In the 1940s, a young boy learns the skills of a physician in an abortion clinic then practices his skills at the Cider House. That is about the best way to describe this artless movie. There was about every manner available to promote disregard of God's expectations of us. "You really don't go [to the drive-in] to watch the movie." "When you come here [to the drive-in] you really don't care about the movie." "What has the law ever done for anyone here?" "Let HER decide what to do [about her pregnancy]." "I'm not sorry for anything I've done [by the abortion doctor]." This movie is clearly a pro-sexual freedom and pro-abortion movie. In many ways it promoted sexual freedom and promoted abortion as a "cure" for the consequences of sexual freedom. And to toss gasoline on this fire, "This was right, I KNOW it was right" said by the *Mighty Joe Young* girl after an episode of immoral sex with the pretend doctor while her fiance was off to war. Then, while that fire was blazing, a fan was set up to flare it up in the mind of the impressionable viewer with "We make our own rules." Jesus hates arrogance and haughtiness which embolden the foolish rebellion [1 Sam 15:23] bound up n the hearts of youth [Proverb 22:15]. Impudence (haughty eyes, proud look) is the first in the list of seven sins Jesus hates -- yes, the Bible says He "hates" them. [Prov 6:16-19].

And on top of all this, a father of a young woman became the father of his grandchild in this PG-13 movie.

That is all I am going to say in this summary/commentary but do ask that you read for yourself the much more complete Findings/Scoring section below -- it is equivalent to a page and a half of typewritten text. But just to help you to have even further confidence in the CAP analysis model, the CAP final score of 57 fell neatly inside the CAP scoring range of 55 to 67 for PG-13 movies. More evidence of the objectivity of the CAP analysis model. I would have really liked to have given this movie a very, very low score because of it bringing vulgarity to the very young but the model would not let me. Even I, the "engineer" of the model am amazed at the reliability of it.

So many of our visitors seem to be relying only on this Summary/Commentary for a full assessment of this movie. This is not possible. For the best representation of the CAP Entertainment Media Analysis Model applied to this movie, visit the Findings/Scoring section below.



---
FINDINGS / SCORING: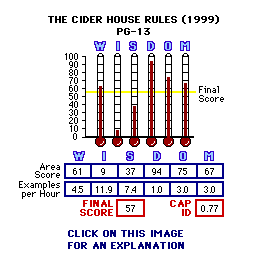 NOTE: Multiple occurrences of each item described below may be likely.

Wanton Violence/Crime (W):

disregarding the illegality of abortions
seeking abortion after immoral sex
a mother's death due to abortion ( a TOKEN consequence very quietly addressed by the writers)
a child slapping herself in the face because the boy she "loved" left
forging identity and credentials
child death from illness
offering abortion as a "cure" to the consequences of incest
knife attack with injuries
practicing medicine without a license, and on kids to boot

Impudence/Hate (I)(1):

pregnancy from immoral sex as a mere inconvenience
seven uses of the three/four letter word vocabulary
a child wishing he could kill his father
a child kicking a man's car because of sadness
asking another to lie to cover own sins
"What has the law ever done for anyone here."
lies to manipulate
telling a child to lie
the child amplifying the lie
rationalization of abortion as a "cure" for the consequences of immoral sex
"I'm not sorry for anything I've done." (from the abortion doctor)
"Let HER decide what to do." (about her pregnancy)
lie to hide whereabouts
"We make our own rules."
asking to lie and agreeing to do so to cover up murder
portrayal that anger excuses poor behavior choices
lies to prevent draft into the military

Sex/Homosexuality (S):

promotion of sexual independence and autonomy
full frontal and rear male nudity
"You really don't go [to the drive-in] to watch the movie."
"When you come here [to the drive-in] you really don't care about the movie."
gaping mouth kissing
sexual intercourse
"This was right, I KNOW it was right" after immoral and cruel sex
full rear and side female nudity and partial frontal female nudity
a girl's father becoming the father of his grandchild -- incest

Drugs/Alcohol (D):

use of drugs to enable sleep
smoking

Offense to God (O)(2):

one use of God's name in vain with the four letter expletive and four without
"I fail to see how the Christian thing could help around here."

Murder/Suicide (M)(3):

at least five abortions
suicide by drugs